Of all the jobs in the game industry, I get the most questions about how to become a video game tester. Maybe it's the appeal of "getting paid to play video games." Maybe it's just an interesting option for people hoping to work from home doing something they love.  I mean, who wouldn't dream of getting paid to play games all day?
Even though being a QA tester for a game company isn't exactly "getting paid to play video games," it's not a bad way to earn a living. And it's certainly a common way for newbies to break into the game industry.
If you're thinking about becoming a video game tester, this is for you. I've compiled this FAQ-style list of the top questions I get about QA testing jobs. If you don't find your question here, then be sure to ask it in the comments section below – I'll answer it, and then add it to the list!
Steps to become a video game tester
How can I learn game testing job skills?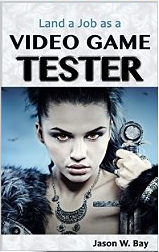 Learn how to become a game tester with my book, Land a Job as a Video Game Tester. You'll learn the basics of game testing, and all the steps to apply, interview, and accept job offers. It's got everything you need to know to get a job testing games. read it
How much do video game testers make?
Testers can be paid hourly or they can be on an annual salary. Either way, the pay rate can vary a lot — it's based on factors such as which game company you're working for, what geographical location the studio is located within, and how many years of experience you have as a game tester or a game testing lead. If you want the specific salary numbers listed per job and years of experience, read my article about video game tester salary.
Do I have to go to college or university to become a video game tester? What kind of degree should I get?
QA testing is generally considered an entry-level position in the game industry, and most companies do not require a college degree to be hired as a game tester. But if you do get a degree, then you'll have a much better chance of moving into higher-paying jobs in QA/testing, or even moving into other areas of game development like art, design or programming — game jobs that almost always pay a lot more than a job as a tester. So if you want to have a career in the game industry and not just a job then it's smart to get an education.

Find game schools near you
In fact, many of the testers I've known over the years were working as testers so they could pay their way through college. They would work part time while they went to school, or even full time while they took classes in the evenings. (Many colleges have "evening degree" programs for working professionals.) Then, after they got their degrees, they got a new job in the game studio doing what they went to school for –
like art
,
programming
or
design
. And you can bet they also got a healthy
pay increase
to go with the promotion.
How do I write a resume for game testing?
To apply for game testing jobs, you'll need to write a good resume (called a CV in many countries), and optionally a cover letter. Fortunately, game testing resumes aren't much different from any other resume, so you can start by using resume examples from other successful people in the game industry.
Just be sure to focus on your skills that match the needs of the specific job you're applying to. If you're not sure, start by searching for game testing jobs and then read the "requirements" section of the job posting to discover what skills and talents they want you to have before applying.
Do I need to move to a certain location to be a video game tester?
Most game testing jobs are near the larger game studios, which happen to be in the larger cities. You may be able to find testing jobs in smaller towns and cities around the world, but if you're positive that you want to break into the game industry then you'll have the best chances of finding work if you can move to one of the major cities for game development.
Can I get a job testing video games from home?
I asked one of my friends who has run several QA groups over the years, and he's heard good things about uTest. They provide a "crowdsourced" testing service, and he thinks that many of their QA employees work from home. But in general, if you want solid, full-time employment as a game tester, you won't be able to work from home because nearly all game companies do not hire work-from-home testers. In fact, please be careful, because there are several scam websites that you need to watch out for. Learn more in my podcast about work from home testing scams. If it seems too good to be true… it is.
Where would I find someone hiring for video game tester jobs?
Nearly any game studio needs testers, and some of the big companies like Nintendo, EA, Microsoft employ hundreds of game testers either directly or through temp agencies. Like any job, you can start by searching for job postings near your city using the video game job search tool. You can also search on popular tech-industry job sites like Monster.com, or job aggregator sites like Indeed.com. For in-depth tips on how to apply and interview for tester jobs, consider getting a copy of my new book Land a Job as a Video Game Tester, because it's chock full of info on how to do just that.
What high school classes or after school activities would be great for video game testers?
Can I assume that you already love to play games? If so, start paying attention to the bugs in each game. Learn how to "break" the game by doing things inside the game world that the designers didn't expect you to do. Also, to be a good tester you need to be disciplined and focused. Pay attention in school and get good grades.
Some classes that could help you get a QA job might be: technical writing, computer programming (introduction), project management, possibly Microsoft Excel. You can also learn more about game design by reading through some of the top game design books.
What qualities/requirements are video game testing companies looking for in a a rookie testing candidate?
Since game tester jobs don't usually require any specific education, hiring managers look for people who have certain "soft skills" that are seen in some of the best testers in the industry. Specific traits that game studios and testing companies look for in a good tester include:
Focus: You need to have a good attention span, and not get bored of a game even after you've been testing it for a long time. And I mean, for a looooooong time.
Detail oriented: You need to be able to spot bugs, figure out how to make them happen predictably, and describe the precise steps to the development team to help them find and fix the bugs. Nothing can be overlooked or slip between the cracks.
Writing: You'll be communicating with the dev team and other testers by email and through notes in the bug-tracking software, so you'll want to be able to clearly communicate your thoughts in written form.
Attitude: Companies look for testers who have a good attitude, are hard workers, and can be fun teammates. They'll avoid you if you're overly negative, sarcastic, or angry — if that sounds like you, then start practicing a positive attitude now, so it will become a habit by the time you apply for jobs.
Are game testers required to travel once in a while?
Testers don't normally need to travel very often, but it depends on what kind of company you're working for. If you end up being a tester on a project that's developed in a different town than where you're testing it – for example if you're working for a publisher in San Francisco but the developer is in Seattle – then you might need to travel occasionally. If you can't travel for some reason, it's probably not a deal-breaker for most testing companies.
Any travel that you may be required to do for work will be covered 100% by the company. They'll pay for your flight and your hotel, and they'll give you an allowance each day for food and other miscellaneous expenses. In general, business travel can be fun, and it's a nice way to see new cities.
What other kinds of testing jobs are out there?
Besides a typical "game tester" job, there's also a job that you may not have heard of yet called an "SDET" (pronounced "ESS-det"). That stands for "software design/development engineer in test." It's a cool job that's basically a programmer that writes code – code that tests the games in an automated way. So it's like a testing job, but the salary is much higher since it requires programming skills. A programming degree or some programming classes would be really helpful for landing a job as an SDET.
What kinds of companies would be good to work for?
That's really up to you! What kinds of companies do you like? Which games and types of games are your favorites? Which companies are in cities that you think you'd like to live in?
It's a big life decision, so don't expect to make it right away. Do some research online, and put some thought into it. Here's a good set of rules to help guide you:
Work at a company that makes games you're interested in. You'll be spending a lot of time testing their games, and it will be more fun and engaging if you like what you're working on. You won't always get to work on stuff you love to play, but you should take that opportunity whenever you can.
Work at a company that's big enough to have different career options for you. You probably won't want to stay in the same job forever. Try to work at a company that has several teams and several products, so you can have a chance to move up or change jobs after a few years. Better yet, work in a city that's a game dev hotbed.
Work at a company that has friendly, fun, nice people working there. You may be working very long hours for days or weeks before each game release, which will be much more enjoyable if the people you're working with aren't jerks. Research the studio on Glassdoor.com, and ask people who may have worked there in the past. Avoid companies that seem to be full of jerks.
How old do you have to be in order to be a video game tester?
Technically, you just need to be whatever the minimum working age is in your state/province. But practically, most game companies won't hire people as testers until they turn 18 years old. If you're not old enough yet, you can start preparing for your future job by following some of the advice listed elsewhere in this article, and listen to my podcast about getting a job in games.
Do testing companies provide health insurance and other benefits?
No, not all companies provide insurance to QA testers. Many companies hire QA as "temporary" workers, and are not required to pay for their health benefits. If a tester is employed through a temporary staffing agency, the agency may pay health insurance. Otherwise you should buy private insurance for yourself.
This is one reason why it's best to try and get a full-time testing job at an established game company. Most regions require that employers provide medical benefits to their full-time employees, so it's often a safer way to go.
How can I start learning about game testing right now?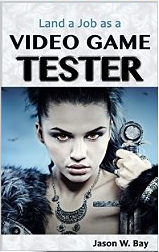 Learn how to become a game tester with my book, Land a Job as a Video Game Tester. You'll learn the basics of game testing, and all the steps to apply, interview, and accept job offers. I worked hard to write a book that provides everything you need to know to get a job testing games, but if I missed anything then you should email me and I'll answer any remaining questions you may have. read it
Do video game testers get bonuses like for Christmas or other holidays, and if so how much?
Some studios do and many do not, it just depends on which studio you work for. For companies that do give bonuses, it's usually based on the success of a shipped product, or it could be based off of the studio's revenue for the past year. Bonuses are usually a percentage of your annual salary, and are often anywhere from 5% on up.
Just keep in mind that bonuses aren't guaranteed, and even studios that have given bonuses in the past aren't required to keep giving bonuses in the future. So don't count on it, because it might not happen, and when it does happen, just consider it a… well… consider it a nice bonus.
Do video game testers get vacations? If so, how long, and are you paid during vacations?
It depends on whether you're working as a part-time, full-time, or temporary worker. If you're hired as a full-time employee, you'll normally start accruing paid vacation time right away and can take vacation at any time (as long as it's ok with your manager). If you're hired as a temporary employee, then you usually would not get any paid vacation. Note that temp workers can still take vacation from time to time, but you won't be paid for the time you're away from work.
Do companies give you the game systems that you need to work with, or do you need to buy them yourself?
The game company you work for will provide you with a computer, the game system(s), and any other hardware or software you might need to do your job. Often, you'll be using a "dev kit" version of the game system, which is a specially-modified version of the hardware that allows developers to debug their games as they create them. Dev kits are often provided to game studios even before the hardware is announced to the public, so only official game studios — and you, if you have a job there — will have access to them.
Where can I get information about video game schools?
You can use the game school search tool to find out about video game schools near you. It's never too soon to start collecting info, and it's totally free.
Find game schools near you
If this info was helpful for you, give back by sharing it on Facebook, LinkedIn or Twitter!
Image: Grant Cochrane / freedigitalphotos.net
Join my newsletter...
...get a free ebook!
Join 1,000+ awesome people reading my "Top 20 Free, Easy Resources for Building Your Video Game Career" e-book.