In this episode of Game Industry Career Guide Podcast, I read you a free chapter from my book, "Land a Job as a Video Game Tester."
In this episode, you'll learn:
What is game testing? What does a game tester do?
QA testing vs. play testing
What are some pros and cons of being a tester?
If you have a question you'd like to get answered on the podcast, leave a comment below or ask me anything here.
Find game schools near you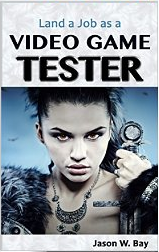 Learn how to become a game tester with my book,
Land a Job as a Video Game Tester
. You'll learn the basics of game testing, and all the steps to apply, interview, and accept job offers. It's got everything you need to know to get a job testing games.
Read my new book!
Making games for a living is an incredibly rewarding career, but it's hard to break in unless you have insider knowledge. This book levels the playing field.