Also called: QA Tester, Quality Assurance Tester, Black Box Tester
Let's start by busting a common myth: testers do not just "sit around and play games all day." It's real work! You'll be playing games that are under construction, well before they're finished. They'll be buggy and missing content. At the early stages, they won't even be "playable" in any real sense.
Find game schools near you
What does a game tester do?
The tester's main job is to play the latest under-construction version ("build") of the game, and report anything that looks bad or doesn't work right (a "defect"). That's why it's called quality assurance — you're making sure the game is high-quality.
On a given day as a QA Tester, you'll do things like:
Play the build, looking for defects
When you find a defect, figure out how to make it happen predictably
Type up an "issue report" — a description of the defect, along with steps to reproduce it — into special software called a "bug tracker" or "issue database"
Submit the report to the game team so they can fix the problem
The programmer that receives your report might ask for more information to help find and fix the issue
Why is game testing important?
The tester's role is critical because they're the last line of defense before the game is released to players. If they don't do their jobs well, it leads to millions of disappointed fans as they realize the game has bugs, crashes, or — even worse — loses their progress. If you've had that happen, you know how frustrating it is.
Starting your career as a QA Tester is one of the best ways to get into the video game industry, and it's a great way to learn about how game studios work and how games are made. I know many people who started as testers and then went on to become producers, artists, designers, or programmers. In fact, I started my career as a tester and later went on to run a large game studio!
How can I learn how to test games?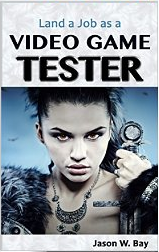 Learn how to become a game tester with my book, Land a Job as a Video Game Tester. You'll learn the basics of game testing, and all the steps to apply, interview, and accept job offers. It's got everything you need to know to get a job testing games. read it
If you have questions about becoming a QA tester, check out the how to become a video game tester FAQ.
Image: Hash Milhan / flickr
Read my new book!
Making games for a living is an incredibly rewarding career, but it's hard to break in unless you have insider knowledge. This book levels the playing field.