Find game schools near you
This article is part of the Video Game Developer Salary series. Read about the annual salary ranges of all video game jobs, and get advice on maximizing your paycheck throughout your career.
Table of Contents
When young people dream of making video games, they usually think of becoming a game designer. Learning how to be a video game programmer isn't usually on their radar, because most people don't really understand what a game developer does. In fact, game programming can seem like a black art that's too technical (and too nerdy?) for the average person to understand.
But the truth is that anybody can learn to be a game programmer. And there's another thing you might not know about game programming: Video game programmers have, on average, the highest salaries of any development job in the game industry.
Now do I have your attention…?
How much do video game programmers make? And how much could you make as a game programmer?
Game Programmer Salary: Overview
If you've ever researched video game programming jobs, you've probably found that there are many "flavors" of game programmers: graphics programmers, server programmers, client programmers, front-end programmers, technical directors and so on. The game industry also has many names for "programmer." They can be called programmers, developers, or engineers, depending on the game studio.
Fortunately, the jobs – and therefore the salaries – are similar no matter what they're called. Let's take a look.
If you're a tl;dr kind of reader, here's the short version: Game programmer salaries start at around $44,000 annually for entry-level engineering positions. But they can grow to well over $120,000 per year (yes, $120k!) for very senior programmers or programmers who are leading teams. Also, there are several programming roles within any given game studio. So, how is game programmer pay determined?
Game Programmer Salary: Factors
Like most jobs, game engineer salaries are based on years of programming experience, areas of expertise, and whether there's a "lead" or a "senior" in the job title. The more experience you have, the more you're likely to get paid.
However, there's another factor to consider, and that's whether a given programmer's skill set is considered a "premium" skill at the moment. For example, graphics programmers were in high demand 10 years ago, so they were paid significantly more than other programmers. These days, server programmers are in demand, so coders who can program game servers are paid more than their colleagues. If you're thinking about starting a career in game programming, it's worth paying attention to these premium trends.
Search for Game Programmer Jobs
There are many programming jobs available, but they have different names depending on the country, state and game company. Try searching for job titles like "video game programmer," "game developer," or "game engineer."

Game Programmer Salary: Details
Okay, let's take a look at the numbers in detail. These figures are generally from three sources: GlassDoor.com, Game Developer Magazine's annual salary survey, and my own experience as programmer and a technical director in the game industry.
One way to break down the numbers is to look at experience. Here are the average salaries for game programmers with various years of experience.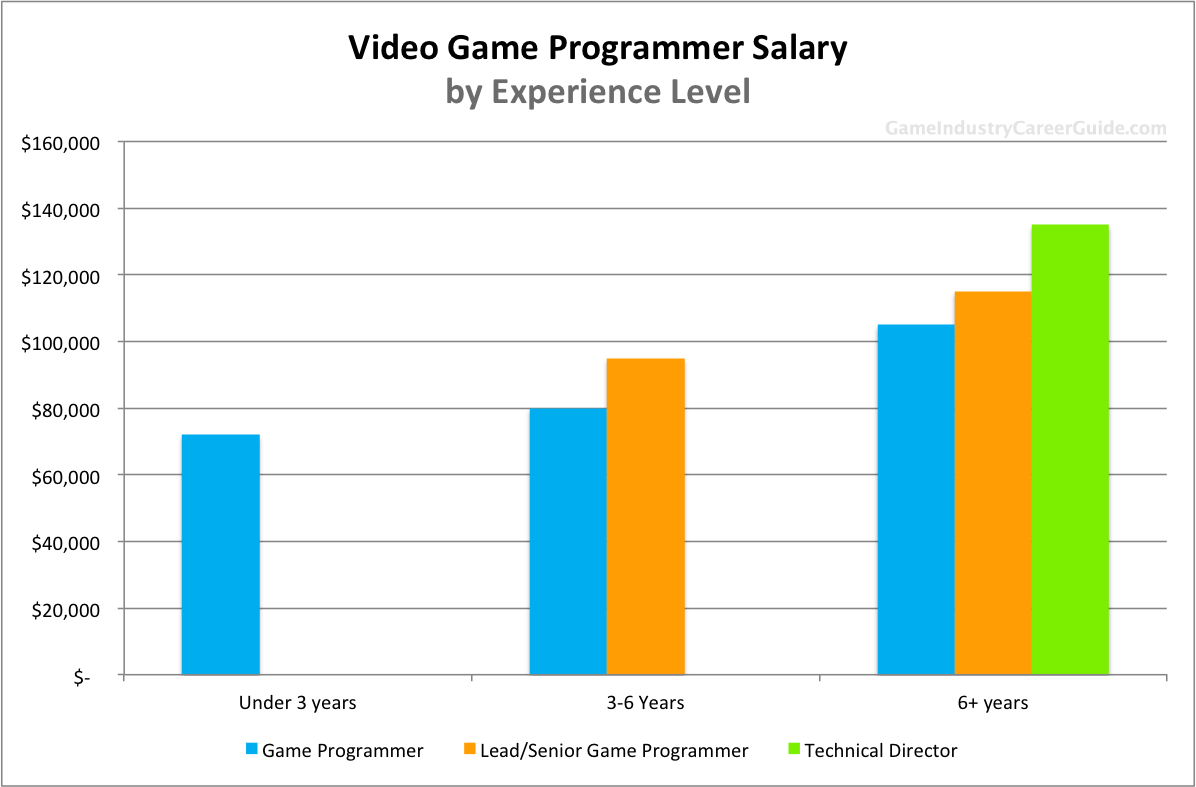 Under 3 Years
3-6 Years
6+ Years
Game Programmer/Engineer
$72,000
$80,000
$105,000
Lead/Senior Game Programmer/Engineer
N/A
$95,000
$120,000
Technical Director
N/A
N/A
$140,000
Note that there isn't data for Lead Game Programmers or Technical Directors until they have 3 to 6 years' experience. As you may have guessed, this is because programmers are rarely promoted into leadership positions until they have several years of on-the-job experience.
Another way to break down the numbers is to look at each game programmer salary based on job title. I think this is more useful because it gives a salary range. It also decouples job title from years of experience, which more closely reflects how game programmer careers actually flow. You don't get promoted just because you've been doing the job for a certain amount of time. You get promoted based on the quality of your work and the amount of project responsibility you can handle.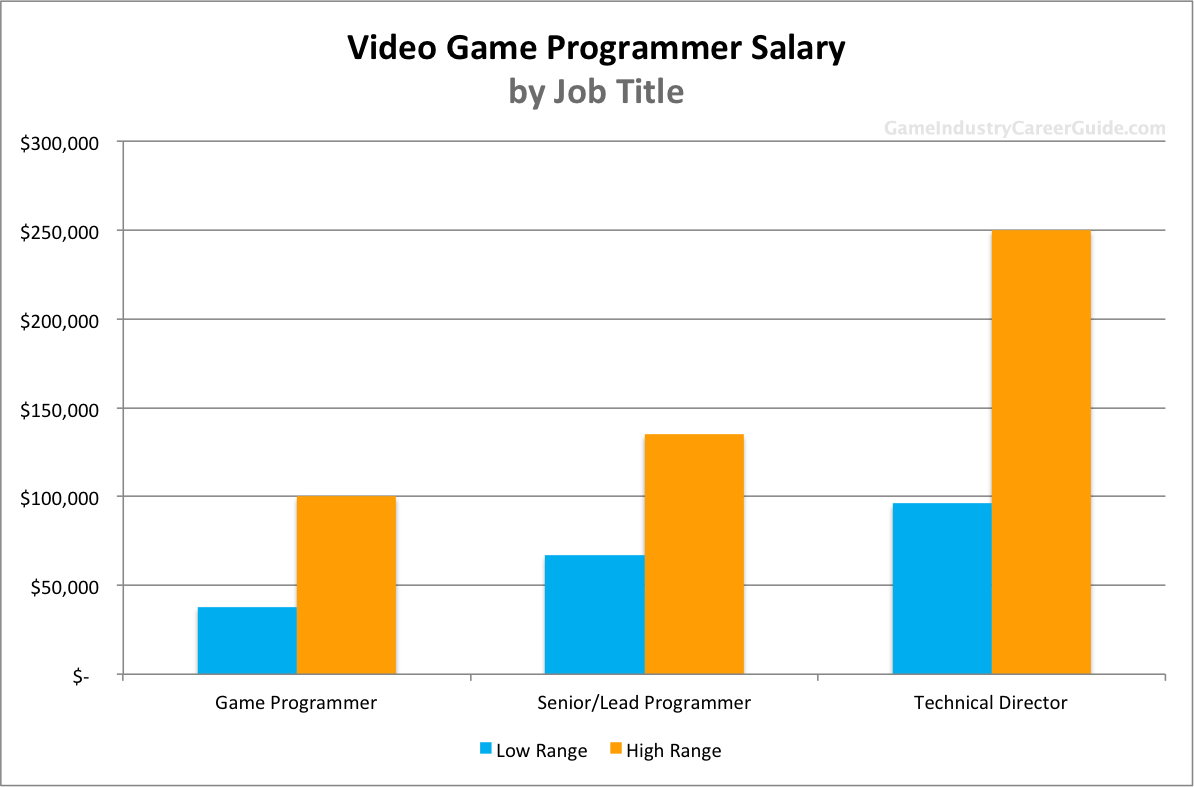 | | | |
| --- | --- | --- |
| Job Title | Low | High |
| Game Programmer/Engineer1 | $44,000 | $108,000 |
| Senior Programmer or Lead Programmer2 | $70,000 | $140,000 |
| Technical Director3 | $96,000 | $250,000 |
1 Entry-level game programmers can also be called Associate Programmers, or sometimes Programmer/Analysts. They generally work in a variety of existing code systems, since they're just learning the ropes.
2 As programmers get more experience, they may take on more responsibility or even start managing a small team. Senior Programmers usually have more responsibility for creating new technology, while Lead Programmers usually run a programming team of 3 or more other programmers.
3 Technical Directors usually manage a team of programmers that are working on a large and important area of technology for the studio. At some studios, they may even be responsible for managing an entire programming department.
Other Factors That Affect Game Programmer Salary
The numbers above are averages from many hundreds of programmer salaries, so they're very general. In reality, there are other factors that can affect how much a programmer is paid.
Company/studio size. Larger companies generally have bigger project budgets, which allows them to pay their game programmers higher salaries. For example, GlassDoor.com indicates that some game programmers at Konami or Naughty Dog are being paid as much as $115,000/year. That's 25% more than the top-range programmer salary at most other game studios.
Education background. In the early days of the game industry, there were many self-taught programmers. But nowadays, most programmer job descriptions specify a Bachelor's in Computer Science or a related degree from a university or college. So getting a degree or certificate in programming from a college or university may be an important step to getting your hands on a nice game programmer salary.
Premium Engineering Positions. Programmers tend to specialize in different areas, and some areas are worth more than others depending on the needs of the industry at the time. For instance, GlassDoor.com shows "server programmers" can be paid as high as $126,000/year, compared to "mobile programmers" that average a top range closer to $70,000/year.
Demand for Game Programmers
Even though the game industry is a cyclical business, one job that never goes away is the game programmer. Programmers bring the game design and art to life, so it's difficult to get anything done without them. And because they need to work so closely with the game designers, it's a difficult job to outsource to other countries. The chart below illustrates the demand for game programmers, based on the number of monthly job postings that include the terms "game programmer," "game engineer," and "game developer" in their description at Indeed.com (a job-posting aggregator).
Note that this approach can give a lot of false positives. For example, a given job posting might actually be for a Game Designer but it would show up in the data if it mentioned "must work well with game programmers." But that's okay for our purposes because we're interested in the trends, not the absolute numbers.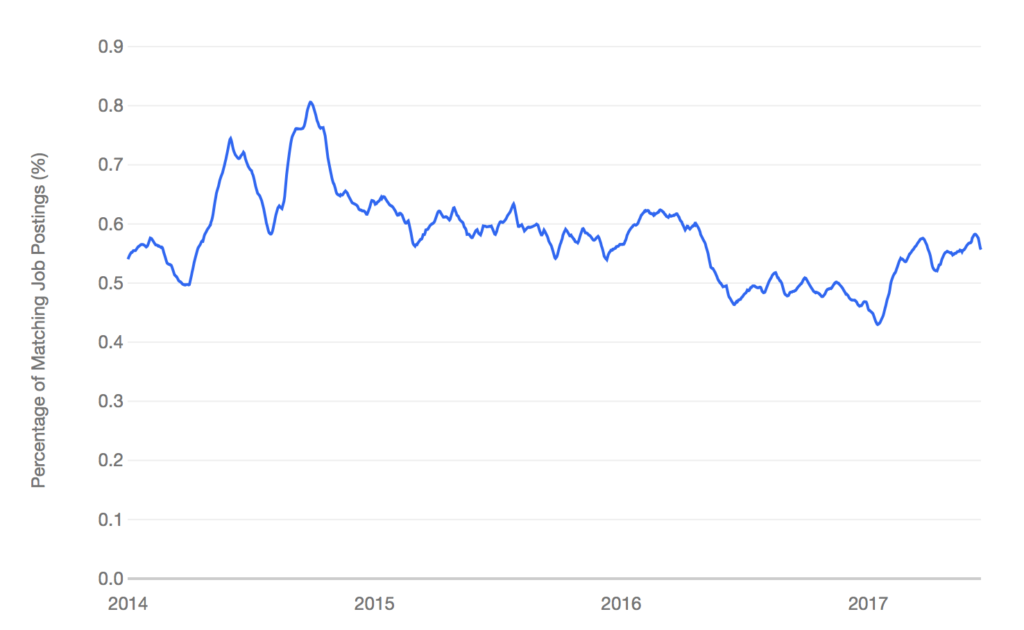 This chart makes it clear that while demand for video game programmers is as cyclical as the game industry itself, they're always in strong demand.
Should I Become A Game Programmer?
If you're passionate about making games and you love problem-solving, then I hope these numbers are encouraging. Programming video games for a living is not only an extremely fun job, but it's also the highest-paying job on any video game production team. And if demand for game programmers ever gets too low, your programming skill set will translate extremely well into other industries such as Web development, business software, or "big data." Programming skills are always in demand somewhere, so type your ZIP code in the box below to find game programming schools near you.
If you liked this article, please share it on Facebook, LinkedIn or Twitter.
Image: stockimages / freedigitalphotos.net
Sources: Glassdoor.com | Gamasutra.com | Indeed.com

Read my new book!
Making games for a living is an incredibly rewarding career, but it's hard to break in unless you have insider knowledge. This book levels the playing field.