Find game schools near you
This article is part of the Video Game Developer Salary series. Read about the annual salary ranges of all video game jobs, and get advice on maximizing your paycheck throughout your career.
Table of Contents
When I first started playing video games (way back in the 1970's!), the "art" was pretty terrible. A game's screen could only show a few colors at a time, and often the "character" you were playing was little more than a colored square. Games were so simple that it was common for a single developer to do everything by herself – all the design, all the coding, and all the art.
But that all changed over the years. As gaming systems grew more powerful and made the leap from 2-dimensions to full-color 3D, the video game artist's job became too much for one person to handle. Now, the job that was once done by a single artist has fragmented into many different art specialties, each with its own suite of tools and techniques that take a lifetime to master. But when it comes down to the paycheck, not all art jobs are created equal.
How much do video game artists make? And how much could you make as a game artist?

Video Game Artist Salary: Overview
If you're considering a career in game art, you should understand that there are many different types of art jobs. What kind of art speaks to you? Are you drawn to 3D modeling? Or do you prefer breathing life into characters as an animator? Maybe you love the exploration and architectural bent of environment art? Each one has its own job title, support community, and salary range.
Before we dig into the details, here's a quick overview: Game artist salaries start at around $35,000 annually for entry-level art positions. They can grow to as much as $90,000 per year, and even higher for senior or lead positions. So, how is game artist pay determined? (All salaries shown in US dollars.)
Game Artist Salary: Factors
Like most jobs, game artist salaries are based on years of experience, areas of expertise, and whether there's a "lead" or a "senior" in the job title. The more experience you have, the more you're likely to get paid.
However, one of the challenges of being an artist is finding a job at a game studio that is a strong fit for your particular art style. For example do you excel at a colorful anime art style but you work at a company that requires gritty, sepia-tinted first-person shooter art? If so, you may find that you hit a "glass ceiling." You might be able to make more at a company that values your anime style. So finding a company that's a strong match for your skills and style is important.
Game Artist Salary: Details
Okay, let's take a look at the numbers in detail. These figures are generally from three sources: GlassDoor.com, Game Developer Magazine's annual salary survey, and my own experience working with artists in the game industry.
One way to break down the numbers is to look at experience. Here are the average salaries for game artists with various years of experience.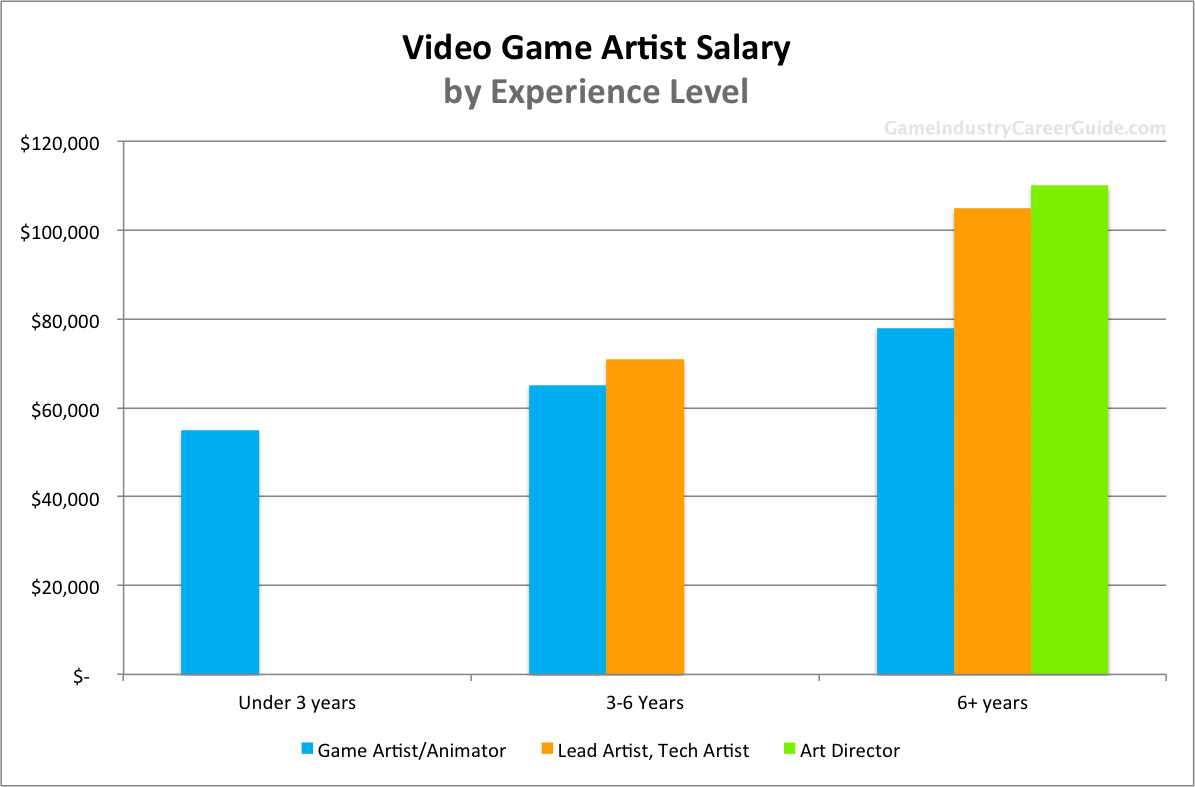 Under 3 Years
3-6 Years
6+ Years
Game Artist / Animator
$55,000
$65,000
$80,000
Lead Artist / Tech Artist
N/A
$73,000
$105,000
Art Director
N/A
N/A
$110,000
Note that there isn't data for Lead Artists or Art Directors until they have 3 to 6 years' experience. This is because artists normally must accrue several years of on-the-job experience before they can be promoted into leadership positions.
Another way to break down the numbers is to look at each game artist salary based on job title. I think this is more useful because it gives a salary range. It also shows the differences between the various areas of art expertise, rather than lumping them all together under a single job title.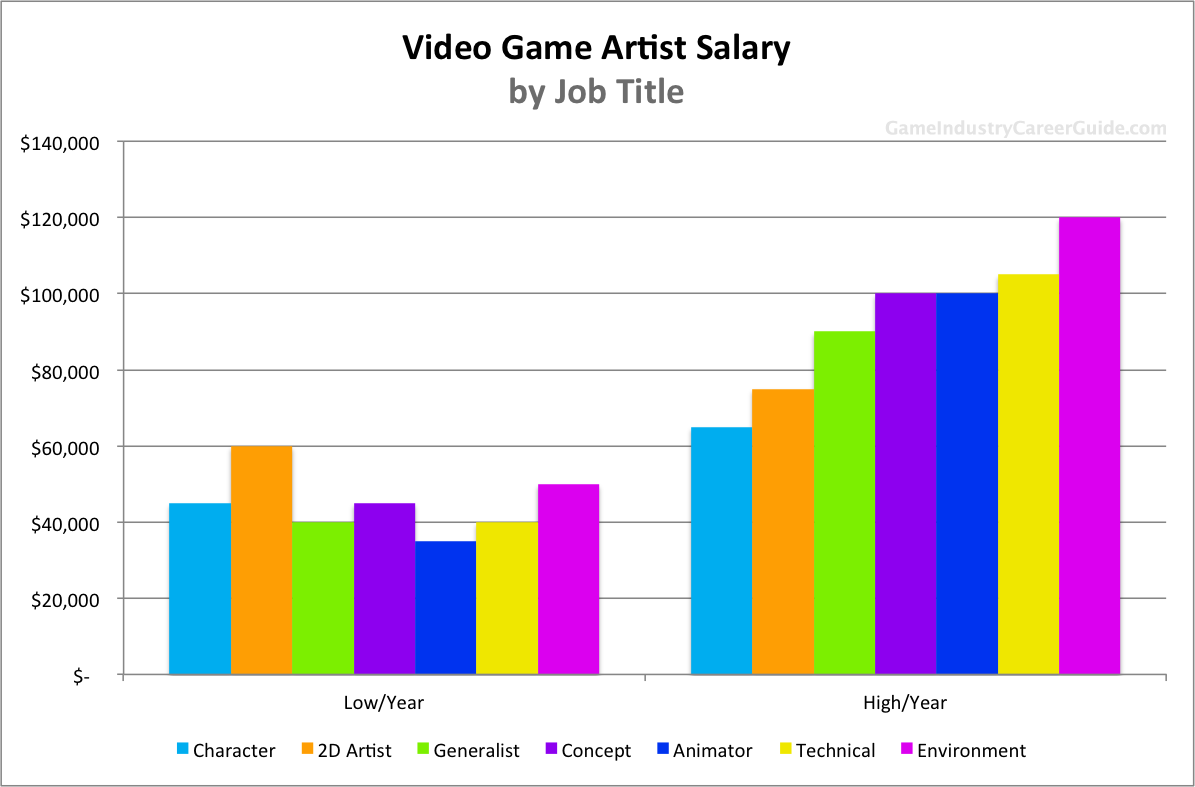 Low/year
High/year
Game Artist (Generalist)
$45,000
$95,000
Concept Artist
$45,000
$100,000
Character Artist
$45,000
$70,000
Environment Artist
$55,000
$120,000
Technical Artist
$40,000
$105,000
Character Animator
$40,000
$100,000
2D Artist
$60,000
$75,000
Other Factors That Affect Game Artist Salary
The numbers above are averages from many hundreds of artist salaries, so they're very general. In reality, there are other factors that can affect how much an artist is paid.
Company/studio size. Larger companies generally have bigger project budgets, which allows them to pay their game artists higher salaries. For example, GlassDoor.com indicates that some concept artists at Riot Games are being paid as much as $200,000/year. That's almost double the top-range artist salary at most other game studios.
Stylistic Fit. Most artists have particular styles they excel at. While a great artist may be able to simulate other art styles, it certainly slows them down. If you can get into a studio that is a great match for an art style that you can do well and do quickly, then your earning potential will increase.
Ability to Specialize. Or to Generalize… Smaller game teams place a lot of value on artists who can work in many different art styles and roles. They don't need to be great at everything, but they should be able to pick up any work that may be needed. On the other hand, larger teams tend to value an artist that is highly specialized in one area and can consistently do high-quality, expert-level work. Finding the right team and studio that values your generalist or specialist skill set is important.
Demand for Game Artists
The game industry is a boom-and-bust business, and unfortunately it's often the art jobs that are hit the hardest during "bust" cycles. It can be particularly devastating when a big company like Zynga lays off dozens of artists and they're all looking for new jobs at the same time. Fortunately, games can't be made without art, and many companies are willing to hire artists on a contract basis until the "boom" cycle starts again. The chart below illustrates the demand for game artists, based on the number of monthly job postings that include the terms "video game artist" in their description at Indeed.com (a job-posting aggregator).
Note that this approach can give a lot of false positives. For example, a given job posting might actually be for a Game Designer but it might show up in the data if it mentioned "must work well with artists." But that's okay for our purposes because we're interested in the trends, not the absolute numbers.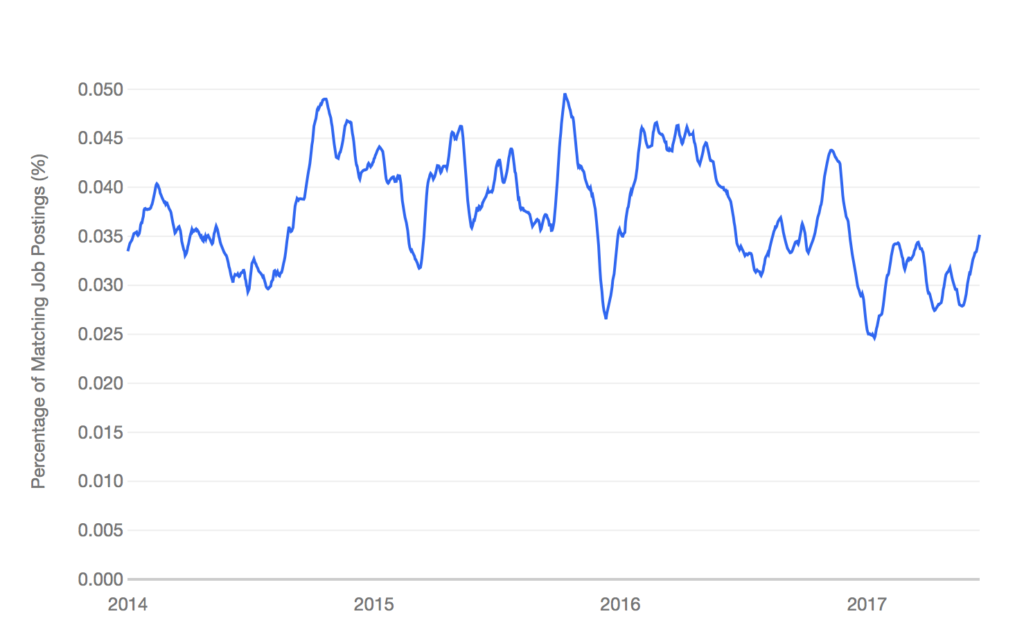 This chart shows that demand for game artists has some serious ups and downs, but is steadily increasing over time.
Should I Become A Game Artist?
If you're passionate about making games and you can't remember a time when you didn't draw or paint whenever you got the chance, then you might just love making art for games. Few artists outside of games get a chance to have their work brought to life by an army of designers and programmers. And there's nothing like seeing a player become totally immersed in the environments or characters that you built with your own hands.
If you're interested in checking out some of the top game art schools in the country, just enter your zip below. The info is free, so it's a great place to start.
If you liked this article, please share it with a friend.
Image: David Castillo/freedigitalphotos.net
Read my new book!
Making games for a living is an incredibly rewarding career, but it's hard to break in unless you have insider knowledge. This book levels the playing field.