Find game schools near you
Table of Contents
If you want to get into the video game industry, you might be considering "traditional" game dev jobs like programmer, artist, or game designer. Those are some of the job roles that make the games, but as games have grown into massive experiences with millions of players, a new job role has emerged to guide and amplify masses of players after the game launches. That's the job of the video game community manager.
Some community managers focus on social media, while others are experts in moderating and growing massive hordes of passionate players and other fans.
How much do video game community managers make? And how much could you earn as a community manager?
Community Manager Salary: Overview
The community manager job has existed for several years in other industries like e-commerce and discussion forums. But it's relatively new in the video game industry, arising in the past few years as games have made the transition from single-player experiences and blossomed into huge, multiplayer, always-on online experiences.
If you're a TL;DR kind of reader, here's the short version: Game community manager salaries start at around $30,000 annually for entry-level social media managers. But they can grow to well over $130,000 per year for very senior community managers who know how to run communities of millions of gamers for the most popular games. So, how is game community manager pay determined?
Community Manager Salary: Factors
Like most jobs, game community manager salaries are based on years of experience and areas of expertise. The more experience you have, the more you're likely to get paid. However, although the community manager role is new in the game industry, be aware that the transition from "community manager of some random website" to "game community manager" isn't a huge leap — that means there's a large supply of people who want to be game community managers, which appears to keep the salary levels lower than they might otherwise be for such an impactful game industry job.
Search for Community Manager Jobs
There are many community manager jobs available, but it can be challenging to find the ones at game studios rather than non-game companies. Try searching for job titles like "game community manager," but if that doesn't get you many results, you may need to search for simply "community manager" and then pore through the results to find the postings from game companies.

Community Manager Salary: Details
Okay, let's take a look at the numbers in detail. These figures are generally from three sources: GlassDoor.com, Game Developer Magazine's annual salary survey, Indeed.com, and my own experience working in the game industry.
Minimum
Maximum
Social Media Manager
$32,000
$75,000
Community Manager
$34,000
$70,000
The numbers above are averages from many hundreds of community manager salaries, so they're very general. In reality, there are other factors that can affect how much a community manager is paid.
Company/studio size. Larger companies generally have bigger project budgets, which allows them to pay their community management staff higher salaries. For example, GlassDoor.com indicates that some game community managers at Riot Games are being paid as much as $130,000/year. That's more than twice the top-range community manager salary at most other game studios.
Prior experience. People who have been community managers at non-game companies for many years may find that their skills and experience translate well to the game industry, provided they are avid gamers themselves. Coming into a game job from another industry is likely to garner a higher starting salary than someone coming in with no prior experience.
The specifics of the job role. Each game company has different expectations of their community managers. At some companies, the role may be limited to blogging and social media posting. Other companies may expect their community managers to wrangle unruly customers and manage large-scale conflicts in their player community. Still others may expect the community manager to lead entire teams of player support staff. Companies with bigger expectations are likely to pay bigger salaries accordingly.
Demand for Community Managers
The chart below illustrates the demand for community managers as a whole, based on the number of monthly job postings that include the terms "community manager" or "social media manager" in their description at Indeed.com (a job-posting aggregator).
Note that this approach isn't extremely accurate, since the community manager career could be growing faster outside the game industry. However, as more games become online experiences with active communities to manage, the shape of the game industry's demand should more closely approach demand for the community management field as a whole.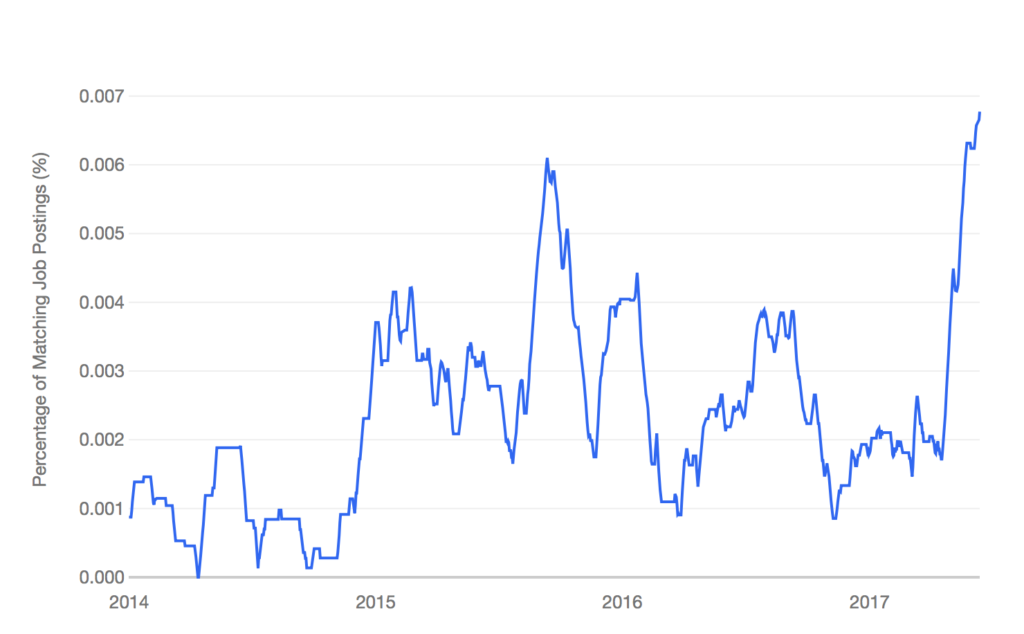 This chart makes it clear that while demand for community managers is as cyclical as the game industry itself, demand is on the rise.
Should I Become A Game Community Manager?
If you're an excellent communicator and love interacting with passionate gamers online, then this could be a good job for you. Community management for video games is a relatively new career, but it should continue to grow as online games continue to evolve into larger scope and scale.
If you liked this article, please share it on Facebook, LinkedIn or Twitter.
Image: Matt Chan / flickr.com
Sources: Glassdoor.com | Gamasutra.com | Indeed.com

Read my new book!
Making games for a living is an incredibly rewarding career, but it's hard to break in unless you have insider knowledge. This book levels the playing field.