After four years of research and over a year of writing, editing, and re-writing, I'm thrilled to announce that my new book Start Your Video Game Career is finally complete, and available for purchase!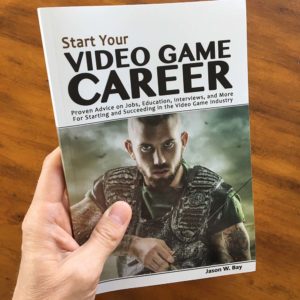 Click here to buy Start Your Video Game Career now!
This book is a big deal for me personally, since it's the most in-depth book I've ever written. More importantly, I think it will be a powerful tool for you, because it's packed full of knowledge, guidance, and inspiration to help you start your own successful career in the video game industry.
I worked hard to make it practical, easy to read, and down-to-earth. There's no need to read it cover to cover if that's not your style — feel free to skip around between chapters, or read just the sections that cover whichever stage of the journey you happen to be in right now.
Each chapter focuses on a different aspect of exploring a career and getting a job in the game industry, and each section uses a "Q&A" approach so you can quickly find answers to your questions. Here's a list of the key chapters:
Choosing a career
Salary and compensation
Getting a formal education
Learning on your own
Applying for jobs and internships
Writing your résumé
building your portfolio
Interviewing for jobs
Career networking
Relocating to take a job
Alternative work situations
Succeeding at your job
Additional wisdom and inspiration
Now is your time for action
Writing this book was a huge effort, drawing not only from my own experience as a hiring manager in the game industry, but also from interviews and conversations with hundreds of students, professors, other game industry professionals, and fans of my website and podcast.

"The perfect balance of indispensable insider information presented in a throughly enjoyable read."
Randy Briley, Senior Lecturer, DigiPen Institute of Technology

"Well thought out and organized information for anyone considering a career in video game development."
Kris Durrschmidt, Crazy Viking Studios

"Could — and should — be the standard reference for game industry job-seekers for the next few years."
Jack Brummet, game industry veteran
Thank You for your support, and here's to an amazing start to your own career as a video game developer!

Click here to buy Start Your Video Game Career now!
Read my new book!
Making games for a living is an incredibly rewarding career, but it's hard to break in unless you have insider knowledge. This book levels the playing field.