This article is part of the Quest for Your Career series. We focus on each specific job in the video game industry by interviewing an expert in the field. Learn what they do, how they got started, and whether it's a good job for you.
Meet Brian Schmidt, Video Game Music Composer
You'd be hard pressed to find a more accomplished composer in the history of the video game industry, than Brian Schmidt. Brian has been making game audio for nearly 30 years, and his credits include music, audio, and sound effects for well over a hundred shipped titles. He's worked on top franchises like The Walking Dead, Madden NFL, BattleTech and more.
As if that didn't keep him busy enough, he also runs a premier annual game music and sound design conference, GameSoundCon, and has received a Lifetime Achievement Award from the Game Audio Network Guild.
You can learn from this guy. We're speaking with Brian today to find out how he got into games, what he does at his job, and which skills and talents it takes to succeed as a video game music composer.
What exactly do you do every day as a Video Game Music Composer?
It really depends on what stage I'm at in the project. On any given day I might be doing some of these activities:
"Spotting" a game. Going through the game spec and determining what music should be where. A game composer needs to be a good game 'spotter.' That is, someone who can play a game in development or look at a game spec and figure out what music should be where.
Playing the game. Game music isn't like film music – the music has to be properly integrated into the game, and things can and do go wrong. Your music may be playing in the wrong place. Or it may conflict with sound effects more than you thought because they added a lot of enemies to a certain section.
Composing. That includes not just composing, but also sequencing, orchestrating, and mixing. Of course you have to block out "composing" time: no email, ignore the phone. Forget about Facebook. Just a no-distractions block of time to write and orchestrate.
Research. This is either playing other games, or looking at what new music tools and technologies are out there. Game audio is an ever-changing landscape.
Integrating. This is the act of getting your music into the game itself. This can involve using sophisticated game audio tools to create highly interactive versions of your music for the programmer to place in the game, or it may include using the game's own level editor or scripting language to do it yourself.
Find game schools near you
How did you originally get the job?
At my job interview, I was asked if I wanted to play an unreleased game (in this case a pinball machine). Since I'd loved playing pinball my whole life, I jumped at the chance. I later found out that the fact I was a really good player was part of the reason I got the job.
People who make games want to work with people who love games. I love games, I love music, I love music technology. It's pretty simple.
What's your favorite part? What's your least favorite?
There are a lot of great parts! Being able to wake up and be excited to get to work and start composing. Seeing something you've worked on on the store shelves. The community in game audio is also great, I've made lifelong friends.
"It's the nature of music for hire. You definitely need a thick skin."
Tweet This
My least favorite is probably the nature of "music for hire." You are writing music to please someone else, and sometimes you'll really love a cue you wrote only to be told, "Eh… not really the direction we were thinking. Can you try something different?" You definitely need a thick skin.
What aspects of game music composition would people find surprising?
Game music and sound are incredibly technical. It is much more complicated than music for more traditional media like film or TV. That's because you're taking an inherently linear medium (music) and trying to map it onto an inherently non-linear medium (games).
Over the years, a number of tools and techniques have evolved; it's not nearly as simple as just composing a few good cues and putting them on Dropbox for the game developer to pick up.
What talents and personality are needed to succeed as a game music composer?
You need to be curious. Curious about games. Curious about the latest tools and tech. Curious about music and orchestration and what else is out there.
And since a lot of game music work is freelance, you can't be an introvert. Networking is incredibly important. This is all presuming you've got great composition, orchestrating, mixing and production skills, of course.
What advice would you give to students thinking about game music composition as a career?
"Don't get discouraged if you aren't asked to score the next Halo right out of school."
Tweet This
Remember that a career is a long journey. Don't get discouraged if you aren't asked to score the next Halo right out of school. Make sure you have your compositional and production skills down cold, and then find something to differentiate yourself from others.
Getting technical can help. If all you can do is create a cue and put it onto an FTP site, you'll be incredibly replaceable. If, however, you can compose interactively, integrate, help define the audio spec and maybe even do some scripting, you will immediately stand out.
What would you recommend for education to start down the composer career path?
Conferences are a great way to learn and to network with other audio people. Game Developer Conference (GDC), GameSoundCon, and Audio Engineering Society (AES) conferences are all excellent events.
There are a number of great books on game audio as well as online courses such as those at SoundLibrarian.
Brian's List: Best Video Game Audio Books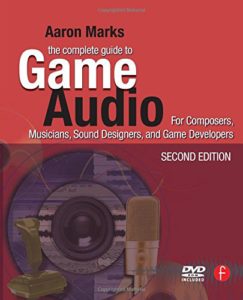 The Complete Guide to Game Audio: For Composers, Musicians, Sound Designers, Game Developers
by Aaron Marks
Turn your musical passion into a profitable career with this exhaustive, indispensable resource for game audio. read it
A Composer's Guide to Game Music
by Winifred Phillips
A comprehensive, practical guide that leads an aspiring video game composer from acquiring the necessary creative skills to understanding the function of music in games to finding work in the field. read it
Game Sound: An Introduction to the History, Theory, and Practice of Video Game Music and Sound Design
by Karen Collins
This book introduces readers to the many complex aspects of game audio, from its development in early games to theoretical discussions of immersion and realism. read it
Writing Interactive Music for Video Games: A Composer's Guide
by Michael Sweet
This guide covers everything professional composers and music students need to know about composing interactive music for video games, and contains exclusive tools for interactive scoring. read it
You can reach Brian via his GamesSoundCon website. If this article was helpful, please spread the love by clicking a share button below.
Read my new book!
Making games for a living is an incredibly rewarding career, but it's hard to break in unless you have insider knowledge. This book levels the playing field.