Your free information is on its way to your email inbox! I'm truly honored that you've given me a chance to help you with your video game career. I promise I'll do my very best to get you all the information you need to get and grow your job in games.
Next: Learn how to make games
Thinking about a career making games? Get free information about game schools near you. Enter your ZIP below.
Find game schools near you
Next: Get a job testing games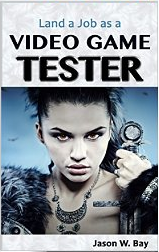 The most complete guide to learning how to test games and get a job as a Game Tester is my book, Land a Job as a Video Game Tester. It will teach you the basics of game testing, and walk you through the process of applying/interviewing/accepting game tester jobs. It has everything you need to know to get a job testing games. read it